Surprised?...
So over the last couple of days I have been in the NJ/PA area for a job interview. Hopefully it will pan out and some of you might have an available tech near you! I stayed with my parents and they were quite surprised when I called for them to come pick me up. I saw my dad first. I called him to come pick me up from the airport and though my phone conversation was brief and he did not seem to excited, it was when he actually saw me standing there I got some sort of reaction. Driving along in his 03 Elantra GT hatch, I could notice the incredibly harsh ride and noisy tires. I also heard the distinct sound of a bearing whirring away (especially on right turns. For those that might not know, the sound will get worse when you apply force to the bearing that is bad. So for him making right hand turns put pressure on the leftside and it was clear as day!) and the brakes were definitely making a higher pitched noise when braking. So I asked how long these things have been going on, my dad simply said "What noises?" this is very disheartening to me. His ears have been ringing for quite sometime and high frequencies allude him. I do with I was closer. I have the tools, ability and the willingness, but I'm 1200 miles away. This sucks! Now if I get the job I will be 30 miles away instead. Fingers are crossed.
Up on the highway the tire roar was very noticeable. The bad struts are killing the tires and I'm sure the car has not been aligned in quite sometime( you can take a look at what the tires look like at "Its just rubber..."). Driving the car later that day to go to the store, I also noticed that the brake pedal goes to the floor and the clutch pedal is VERY high. This just confirms that he does infact need brakes and it would appear that the clutch is going to be gone very soon. I have always helped out in the past, but now I was unavailable. I'm trying to convince him to buy a Veloster. My mom and brother were quite surprised when they came home later that day. Their reactions were priceless! Although once my brother put the pieces of the puzzle together he seemed more upset then anything. Upset that he did not figure it out before hand! haha...I did a good job of being cryptic without lying.
The Bakers and Hyundai...
About 1992 I started my mechanical training with Hyundai, but my parents started buying Hyundai's back in 1988. The first car was a blue 4 door Excel . My brother and I decided that Hyundai was a cooler name then Yugo. Two years later my dad finally traded in his 1981 Pontiac T1000. It had a ton of miles on it and it was falling apart. Back to the Hyundai dealership and they drove away with a 90 Excel hatchback. This car lasted sometime and I ended up with it on my 17th birthday, I bought it from my dad for a $1. In NJ you can not just give it to somebody, it needs to be sold. I started driving that car when I was 15 (it was a manual...along with all of the other cars they have/ will have). I finally gave it up for another car that will be mentioned later.
My brother frequently borrowed the 88 Excel and one lonely night in the summer of 91, he launched it off a set of railroad tracks. He is not what we would call mechanically inclined, so when the oil light came on, he thought nothing of it and kept driving. Needless to say that the motor seized. The oil pan was ripped off. Enter the 92 Excel sedan. This car lived its days taking my mother back and forth to work and on some family vacations. It was traded in for a 96 Elantra. My dad after giving me the 90 excel ended up buying a 97 Accent. Both of these cars went the distance and with over 125k on both the Accent went to my brother and my mom bought an 01 Elantra. Dad then bought his current vehicle, the 03 Elantra GT hatch. My mom moved on to an 09 Elantra, but unfortunately that was taken out by a text'r (check out the pics and story in...Common sense...Can it be taught?) Her current vehicle is now a 2011 Tuscon. For me, after the 90 Excel died a couple of times with electrical issues (damn Mitsubishi electronics and motor). I bought a 94 Excel and boy I racked up some miles on that car. Mostly from being and oversized load escort. It saw the Atlantic ocean from the coast of Nova Scotia, Canada and all the way out to Ohio and as far south as North Carolina.
DAMN! I have lost some weight since then. haha


It wasnt until the slave cylinder went out on my while in Vermont one summer day in 2000 that it had left me stranded (well almost). I stopped by a local dealership that I happened to pass by while escorting the truck. Stopped in to see if I could trade it in on a Tiburon. They obviously said no, I had no downpayment and a busted Excel with over 175k on it. So essentially I had nothing. I called my man at "our" dealership. He told me to come on down. I told him "It might take me awhile, I'm in Vermont...Burlington to be exact" He gave me a good chuckle and told me he'll be there till 9pm. He was a very dedicated sales man. So with just about no clutch ( I only used it for first gear, I powershifted the others, the was fun while in a 10 mile back up in Albany with stop and go traffic. I would have a clutch, then NOT have a clutch...good times.)
Besides the Orion and Eclipse system, I had Intrax Springs/KYB struts. Enkie RPO-1 rims and some other random stuff.
About 6 or 7 hours later, I ended up at the dealership and drove away my silver 2000 Tiburon. A deer and three trees would eventually take the car out of commission after only three years of ownership. Would you believe that in that three years I racked up 109k on it? Yup and now I'm at 209k on my 03 Elantra GT hatch.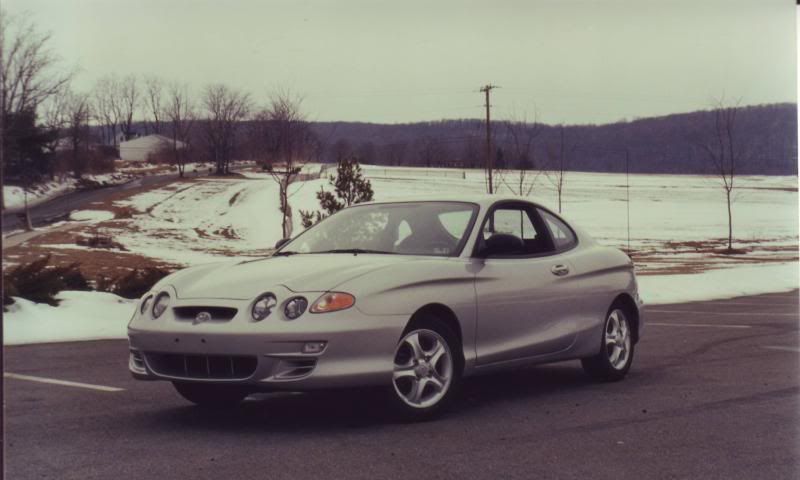 I have been with Hyundai for quite sometime. Along the way I learned from my dad and some of the mechanics that I used to help fix them. It eventually became my career and now we are back to the present. I know its a long read. Hang in there.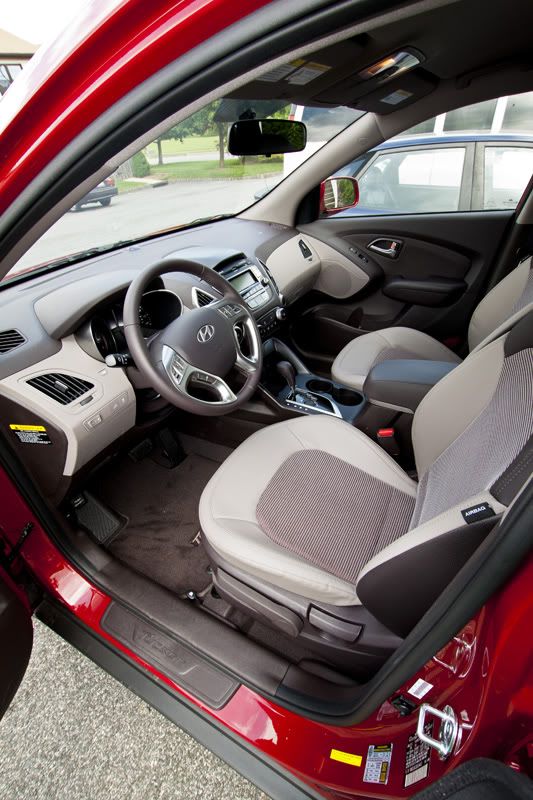 Now the reason I was writing this was to review the 2011 Tuscon that my mom purchased. I had the privilege of driving it about 200 miles and in that time I found myself somewhat enjoying it. Who would have ever thought that a CUV could handle so nicely, although the ride was kinda harch at times especially over the rough back roads in NJ. It was quite stable on the highway and even with it being rainy and windy it never once felt like an CUV. The steering is more then capable, but for whatever reason it seemed to have a hard time going straight. Its on center feel was heavy and pulling it away form center made the vehicle sway to the one side more then expected. It was accurate, but numb with very little feedback. Maybe I just need to get used to the Electronic Power Steering (EPS). The interior is a pleasant place to be and has comfortable seating.
The dash is well made and laid out. I found the steering wheel mounted controls easy to use and master. Even comes with Hyundai's USB/Aux input. This came in handy when I was alone and I could pop in my flash drive. Power comes from the Theta 2.4L which is rated at 176hp and 168 ft/lbs of torque (although if you go for the GL it comes with a 2.0L Beta good for 165 hp with 146 ft/lbs) is more then adequate and Hyundai claims 32mpg on the highway. Although I do not think that my parents have been averaging more then 29 on the highway. It could be the fact that they are going over 70mph and well the Tuscon has the drag coefficient of a blunted brick with rounded out sides. My mom likes it and I guess that is what matters. I'm not crazy about the looks, but it definitely looks better then the previous Tuscon. All in all not a bad car for the 22k it costs and if you feel yourself needing to sit up a little higher then a conventional compact sedan (like my mom now does after her accident) its a good fit and like always Hyundai's 100k/10 mile warranty is nothing to laugh at.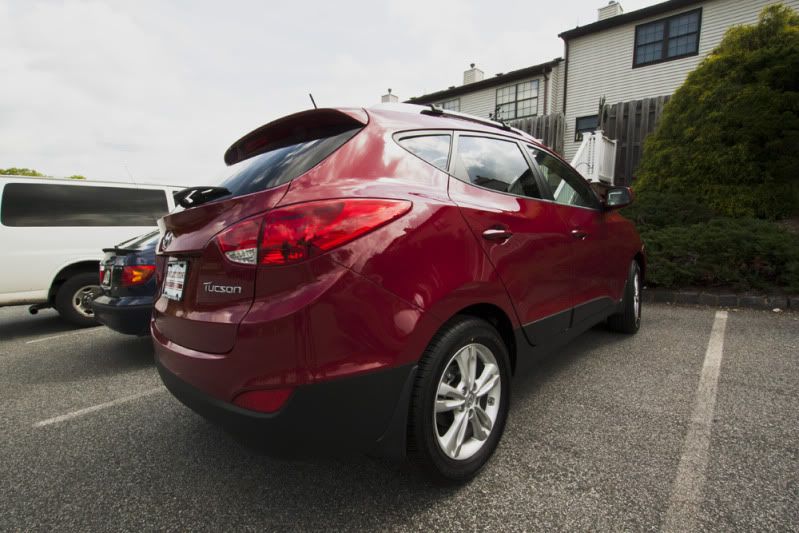 I'm hoping in the next couple of months I'll be moving back home and can once again help out. I'm not looking forward to the weather though...