Listen up!!!
Well most of you know already that CEO John Krafcik announced that the Turbo Veloster is officially going to be bowing at the North American International Auto Show in Detroit. See "Turbo Veloster and you!" for more information on this. He also mentioned a couple of surprises for the Genesis Coupe. I take this to mean that the motors and the facelifted Genesis Coupe will also be unveiled. RMR was there with his new creation. The RMR 500. The 500 is for the Tau 5.0 V8 making 429 hp and 376 ft/lbs of torque. This motor actually is a winner of the Ward's 10 best motor's for 2011. CEO JK also said that "this could not be ruled out, I need your input!" So if you want it...you need to tell them!!!
SEMA awards...
What a let down, how in the world did the Fiat 500 pick up the Hottest Sport Compact? The Camaro won the Hottest Car award. Saw that coming from a mile away. The 4x4 went to Jeep Wrangler. Best truck went to the Ford F-150.
Hyundai Cars...
There where lots of them there, but I selected this handful as my favorites! First lets start with the Genesis Coupe's. These two are examples of the possibilities for Hyundai. First one is the Supercharged 3.8 putting down 450 hp! NICE! This was a combined effort of Hyundai and others in the aftermarket community.
Next is Rhy's RMR 500. This again is powered by the Tau V8 found in the new R-spec Sedan. It has a custom rear lip on the deck lid and some other goodies attached to it. It does almost look OEM, but man I would hate to be the sucker to race it!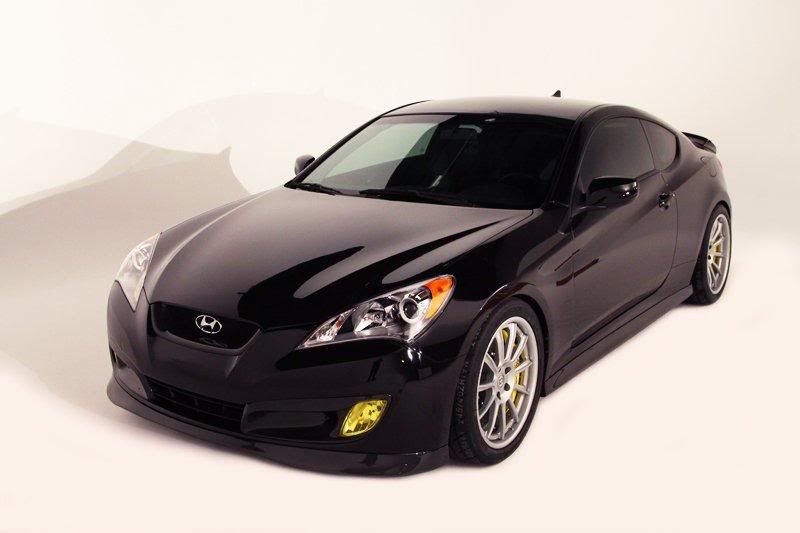 Next is the Veloster. New for this year its Hyundai's hot hatch. This is by far the car that should have won the Hottest Sport Compact award. Fiat? really? O'well...maybe next year with the Turbo version. Hyundai gave a handful of people some pre-production cars to work their magic on. These are the cars that they came up with. I like them!
Here is ARK's rally inspired Veloster. It has a custom widebody kit, rear wing, roll cage, big brakes, ARK's coilover system and a whole bunch more.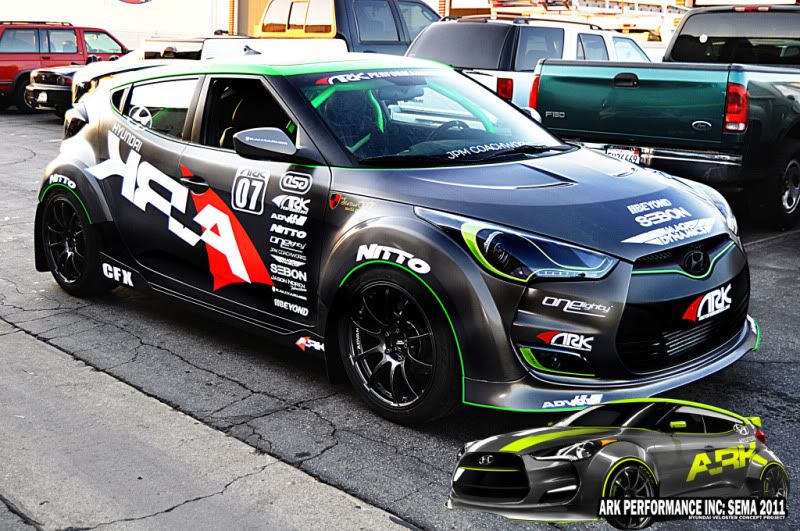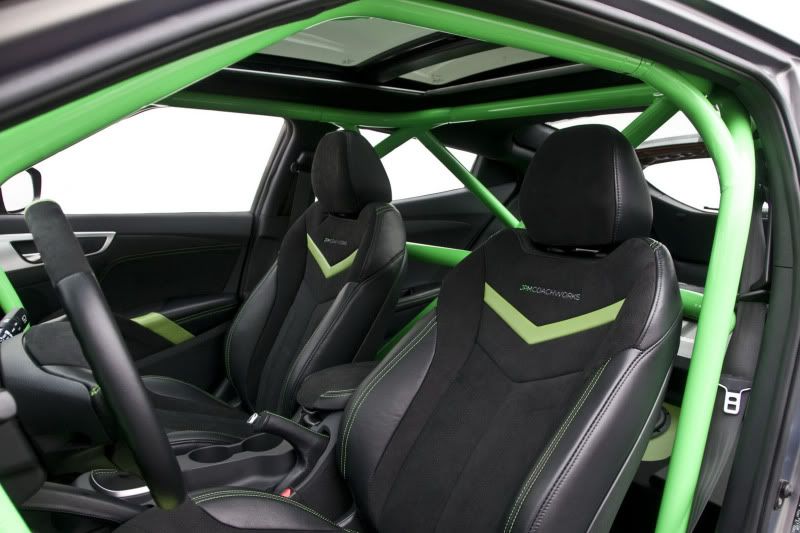 Hyundai obviously has a partnership with RMR so obviously they would be showing off their FWD rallycross Veloster. It uses the 2.0 GDI Turbo from the Sonata and is putting down 300hp and 300 ft/lbs of torque
Next is Fuelcuture's Veloster. I really like this car! The color is insane and with the sequence X lip kit it looks especially good. This Veloster also sports KW Coilovers, Konig 18" wheels, big brakes, and my favorites the Seibon carbon fiber hood and hatch! I was promised we would get the weight difference once these pieces go into production. It also features the KDM projector headlights, KDM LED tail lights, and the KDM signal side mirrors. I have an inkling that these three tidbits are going to make it to the production Turbo version.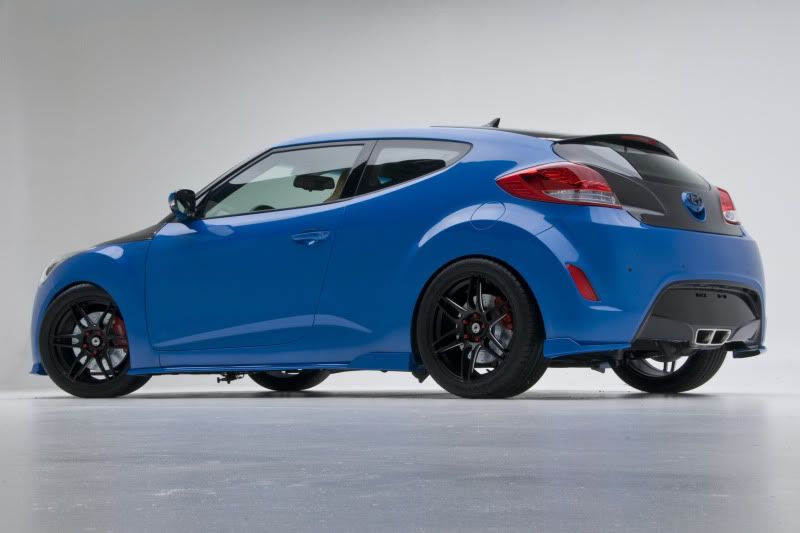 Another company that was given Veloster's was an entertainment company called Re:mix. They have three cars. One is done up with everything a connected person could ever need. Including android phone holder, Ipad holder in the dash, and tv in the seats. Although I'm not a fan of the all white interior or its practicality. I do have to give a thumbs up for effort.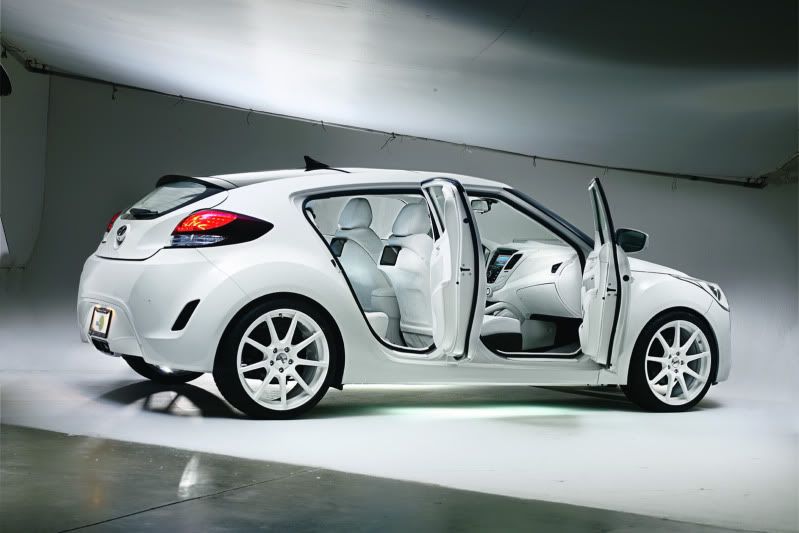 Next is a car for the DJ in you. There is a full set of DJ mixer's in the trunk and the audio system to boot.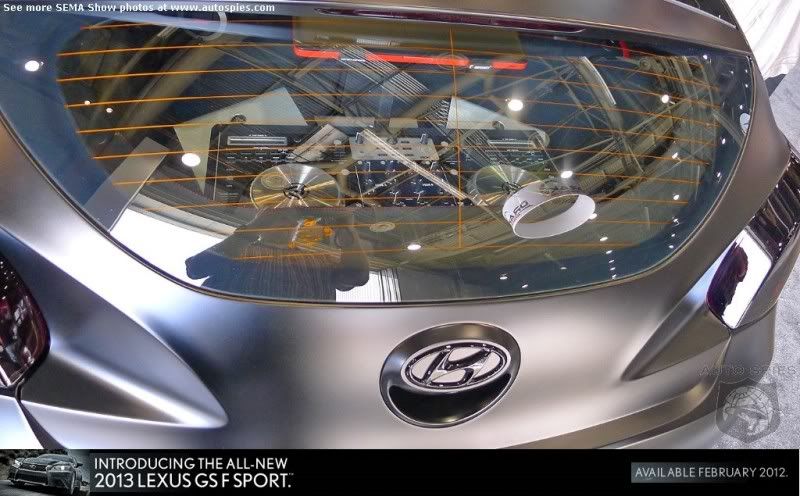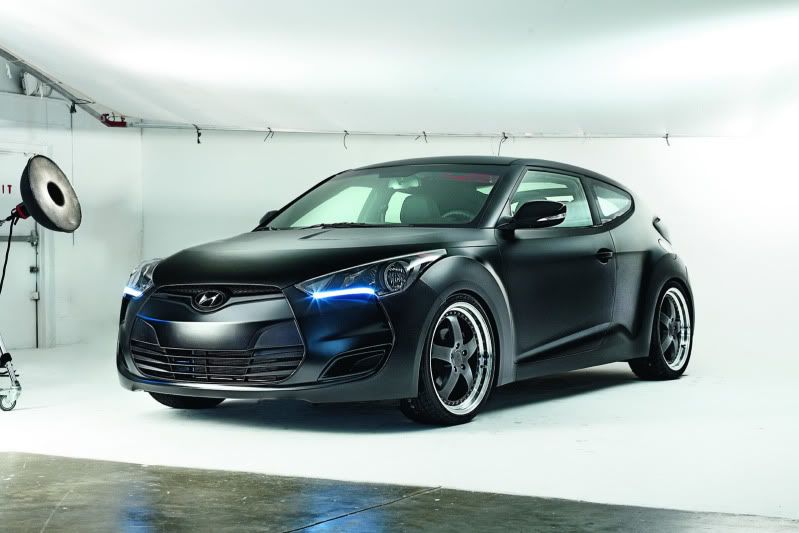 I'm not sure if these next two pictures are of the same car, but its the only green Veloster I have seen. Its Re:mix's Xbox car. Either way I LOVE this green and I think this is the green that should have come on the car in OEM trim rather then the Electrolyte green. Sorry EG Veloster owners...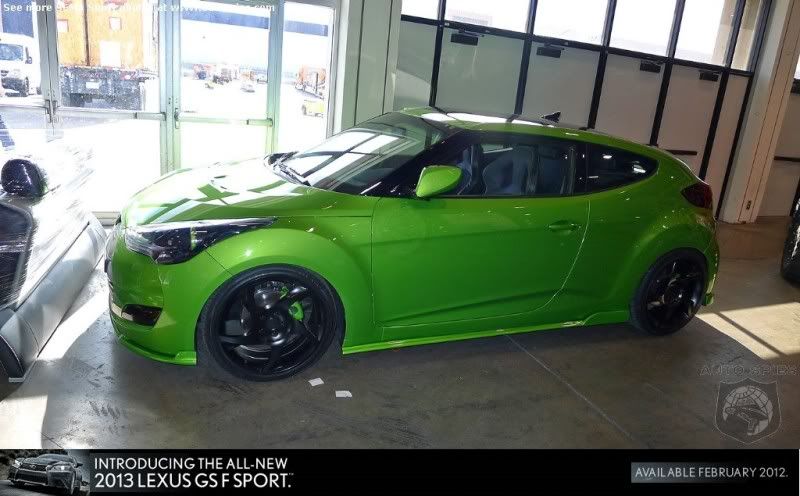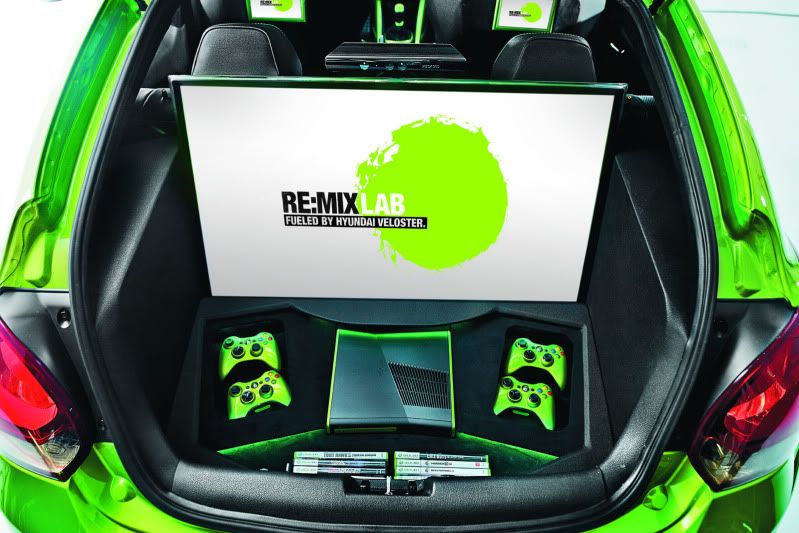 What?...
All in all it was a good show for Hyundai. They showed the world what can be done with the Veloster and of course RMR always puts something crazy out there for us. The only thing that I could have wished for...was to be there in person! O'well...maybe next year?